About the hotel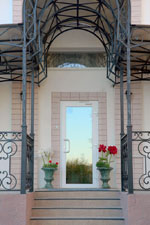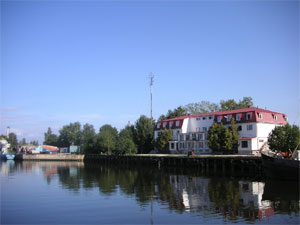 "THE PIERHOUSE HOTEL" is situated on the south coast of the Gulf of Finland in one the most beautiful places of Lomonosov city (Oranienbaum). From the beginning of the 18th century the place became the residence of the lightest prince Alexander Menshikov, Peter the Great's comrade-in-arms. Later this place became the summer residence of Russian tzars. Oranienbaum was renamed after the famous russian scientist Lomonosov in 1948 after the second World War . The city is located in 40 km from Saint-Petersburg and in 8 km from Peterhof – "Russian Le Versailles", the summer residence of Peter the Great with its world - known park, palaces and fountains. The residence of the president of Russian federation "The Konstantinovsky Palace" is situated in 15 km from Lomonosov. To the fortified city Kronshtadt, which was founded by Peter the Great at the same period as Saint-Petersburg, you can get by the ferry which is situated nearby. From Lomonosov city You can easily get to the other imperial residences – Gatchina, Tsarskoje Selo (Pushkin) and Pavlovsk. The hotel is situated within three kilometers from the Ring highway on which You can get by the tunnel to the northern coast of the Gulf of Finland - to Vyborg with its medival castle of the 13th century and Finland.
"THE PIERHOUSE HOTEL " is located in walk distance from the park and palaces of Oranienbaum and 5 minutes walk from the railway station. The hotel can offer 38 rooms from standard room to suite with all conveniences, some rooms have a wonderful view to the Gulf of Finland.
After the excursions, faraway from the busy city, you can have a rest in comfortable rooms with all conveniences. In the rooms is available:
• a bathroom, WC
• the hair dryer
• WI FI (free of charge)
• LCD TV
• the refrigerator
• the electric teapot
A cot is available. The English-speaking staff 24 hours a day.
On the ground floor there is a restaurant and cafe. Pleasant atmosphere, tasty food, the affable and attentive staff will not leave indifferent even the most tempted visitor. You also can visit an open-air cafe where for you will be served a tasty shish kebab on coals.
The location of the hotel on the bank of the Gulf of Finland is attractive for fans of voyages on boats and yachts with possibility of their parking. And for those who will leave the boat at home, we offer surprising walk along coast of the Gulf of Finland on the comfortable yacht. And also, if you like to sit on a decline with a fishing tackle, or simply to have a rest at water - the "Pierhouse Hotel " is a correct choice.
Photogallery